Ts. Dr. Mohd Nur Asmawisham bin Alel is a Senior Lecturer (DS52) at School of Civil Engineering, Faculty of Engineering, Universiti Teknologi Malaysia (UTM), Johor Bahru, Johor, MALAYSIA. He has over 15 years of industrial, teaching, research and consultancy experience.
Earthquake Engineering
Interdisciplinary branch of earthquake engineering.
Applied Geophysics
Earth resource exploration investigations.
Engineering Optimization
Make predictions on data using Machine Learning.
Website Developer
Work with programming languages PHP, Python, Matlab etc.
Get a Quote For Your Project
He has over 15 years of industrial, teaching, and research experience and has specialised in seismic hazard evaluation and risk assessment. His research interests include applied geophysics, seismic design of buildings, structural responsibility, and the application of neural networks, pattern recognition, and artificial intelligence techniques to earthquake hazard mitigation and risk assessment, and unmanned aerial vehicle (UAV). As professional membership, he is an Affiliate Member of Society of Exploration Geophysicists (SEG), Institute of
Research Engineers and Doctors (IRED), Earthquake Engineering Research Institute (EERI), Institute of Electrical and Electronics Engineers (IEEE), Graduate Member of Board of Engineer Malaysia (BEM) and Institute of Engineers Malaysia (IEM). Now he is certified as a Professional Technologist, P.Tech. (Ts.) from the Malaysia Board of Technologist (MBOT).
Applied and Environmental Geophysics Survey
We are notable name in the firm, provides geophysical consulting services to a wide variety of clients from a broad range of disciplines. We provide quality control, compilation and processing, modelling and interpretation of geophysical data.
Call For a Quote:
(60)10-9000-250
Let's Build Something Together
I do research and develop solutions for both industry and society, ensuring that we live, build and travel on safe ground.
What does an academic lecturer do, exactly?
In this role you will contribute to the teaching, research, knowledge exchange, enterprise and community engagement. Building on continuous success in student growth and in sustained advancement of research activities, which you can share your experiences, ideas and expertise for the benefit of our country, the region and future generations.
What are the geophysical methods of exploration?
Exploration geophysics is an applied branch of geophysics, which uses physical methods, such as seismic, gravitational, magnetic, electrical and electromagnetic at the surface of the Earth to measure the physical properties of the subsurface, along with the anomalies in those properties.
Can you help me to find water, rock or mineral?
Of course I can help! Any geophysical method is able to detect a contrast of a physical property. For an example, seismic methods are sensitive to variations in seismic wave velocity, electric and electromagnetic methods are sensitive to resistivity/conductivity, gravimetry is sensitive to density variations, etc. So for any geophysical method to detect water, rock or mineral, there has to be a contrast in the physical property of the surrounding materials.
Can you work from home as a web developer?
The life of a web developer typically involves working long hours. Job opportunities can be found almost anywhere, such as within an organization, an agency, consulting firm or on a contract basis. For an example, a web developer with only 1 to 2 years of experience can expect to take home, on average, RM40,000-RM60,000.
What is your track record in website development?
I have a proven track record when it comes to delivering effective websites, including developed Malaysian top artist website such as Dato' Siti Nurhaliza, Raihan, Izzat Mahadi and Mirwana. I am also received an offered from Telekom Malaysia (TM), to develop Manchester United FC (online TV) web portal and mobile application known as MUTV.
"It has been a great experience working with Asmawisham, and I would be pleased to offer a referral. Your team members was highly professional, early, and very effective, and the project costing including a report is better than other competitive company."
"Everything went well. Asmawisham did a very thorough, professional job and he was a pleasure to work with. Responsive, helpful, knowledgeable. Provided reliable results for investigation. Thanks for your great work. I anticipate doing more project with you."
"He did an excellent job in locating all underground utilities in the immediate areas of the proposed groundwater monitoring wells. The identification of the underground utilities resulted in avoidance of a potential impact to our operations and reduced cost of well drilling."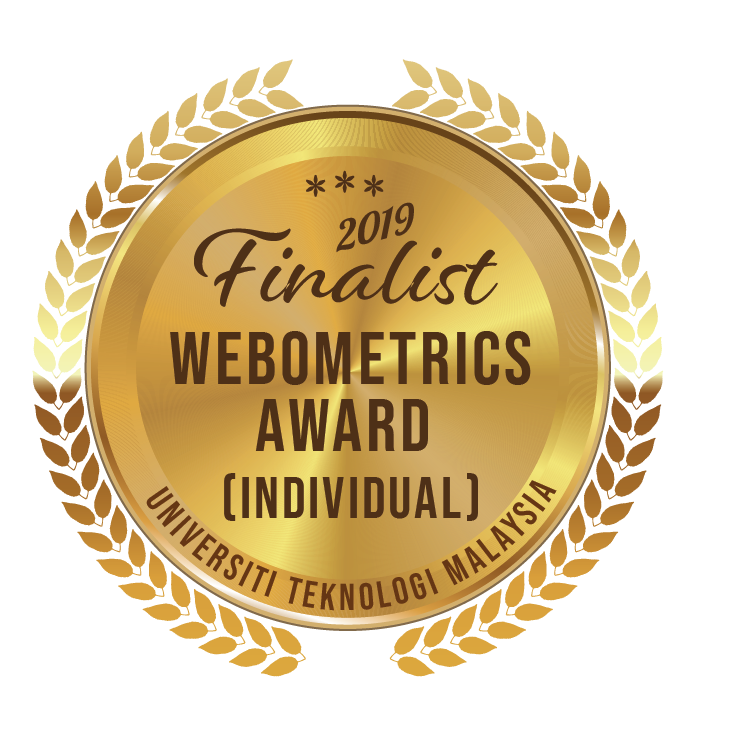 Ts. Dr. Mohd Nur Asmawisham bin Alel
School of Civil Engineering
Faculty of Engineering
Universiti Teknologi Malaysia
81310 Johor Bahru
Johor, MALAYSIA